10 Relaxing Songs for a Long Soak in the Bath
10 Relaxing Songs for a Long Soak in the Bath
When life gets a little testing, there's nothing better than a long soak in the bath to ease any tension and lift your mood. Baths seem to improve any situation. According to Bustle, they help to relieve skin conditions, lessen muscle pain and improve your sleep. So to help you get the most out of your soak, we've created this playlist of 10 relaxing songs to accompany your bath.
See our playlist here.
1. Norah Jones – Come Away With Me
Starting off the playlist would be no other than Norah Jones. Released back in 2002, Come Away With Me has become a great song to help you unwind in the tub and make you imagine further ahead holidays.
2. Jack Johnson – Better Together
Another artist that will make you imagine you're sitting on a beach is Jack Johnson. His song Better Together was released in 2006 and is definitely soothing enough to feature on our relaxing bath playlist.
3. Adele – Make You Feel My Love
Adele will always be known for her relaxing music. According to the Wall Street Journal, Someone Like You is scientifically proved to relax people, as it is 'sprinkled with ornamental notes similar to appoggiaturas'. However, we've chosen Make You Feel My Love as it has similar qualities while being a little less saddening.
4. Katie Melua – The Closest Thing to Crazy
Fourth on the list is Katie Melua who is better known for her song Nine Million Bicycles. This song features beautiful lyrics and soft vocals that will easily help you relax amongst the soap suds.
5. Ed Sheeran – Kiss Me
We couldn't create a playlist of relaxing songs and miss out Ed Sheeran. As one of the most popular musicians out there at the moment, with a Twitter following of 18 million, many Sheeran songs are perfect for bath time.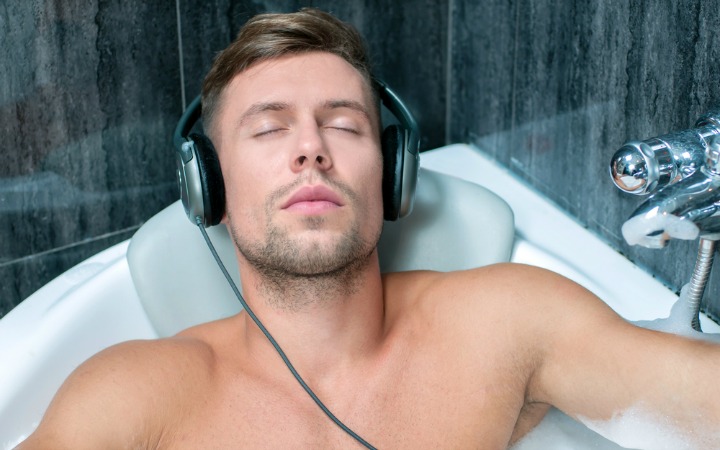 Related: Transforming Your Bathroom Into A Personal Sanctuary
6. John Legend – Ordinary People
With over 47 million views on YouTube, John Legend's Ordinary People is definitely a popular song to help you unwind. Featuring a soothing piano and John Legend's signature, comforting voice, this will help the stresses of the day dissolve.
7. Corinne Bailey Rae – Put Your Records On
This song is a summery classic for sitting in the garden, but it also suited to chilling in the tub. You go ahead and let your hair down with this song accompanied by some top-quality bubble bath.
8. Damien Rice – Delicate
While arguably not as well-known as the above artists, Damien Rice often creates music that can help lower your stress levels after a long hard day. Delicate was released in 2002 and features 5 minutes and 12 seconds of soothing sounds.
9. Enya – Only Time
Racking up over 70 million views on YouTube, Enya's Only Time is one of the most peaceful songs around. This song is best suited to a bath surrounded by candles and low lighting. Maybe add some scented oils to really indulge your senses.
10. Birdy – Skinny Love
Last but not least is Birdy. Her 2011 cover of Bon Iver's Skinny Love will help you blow off some steam and wash your worries away.