2016 Bathroom Trends that Add Personality
2016 Bathroom Trends that Add Personality
Now that you've chosen your bathroom suite, agonised over the vast choice of taps, and booked the services of a plumber, the fun really begins. Whether you've gone for a traditional roll top bath in which you intend to soak your cares away, or a contemporary shower room style where you can get up and go in the morning, the smallest room in the house will really benefit from some well-chosen accessories.
There's nothing like adding a bit of personality to what, let's face it, could be a clinical looking room. All of those hard edges and solid, shiny surfaces need something to soften them. With the vast choice of bathroom towels, shower curtains and toothbrush mugs on the market it's time to take stock and decide on the interior design trend that really reflects your style.
Lady of the Manor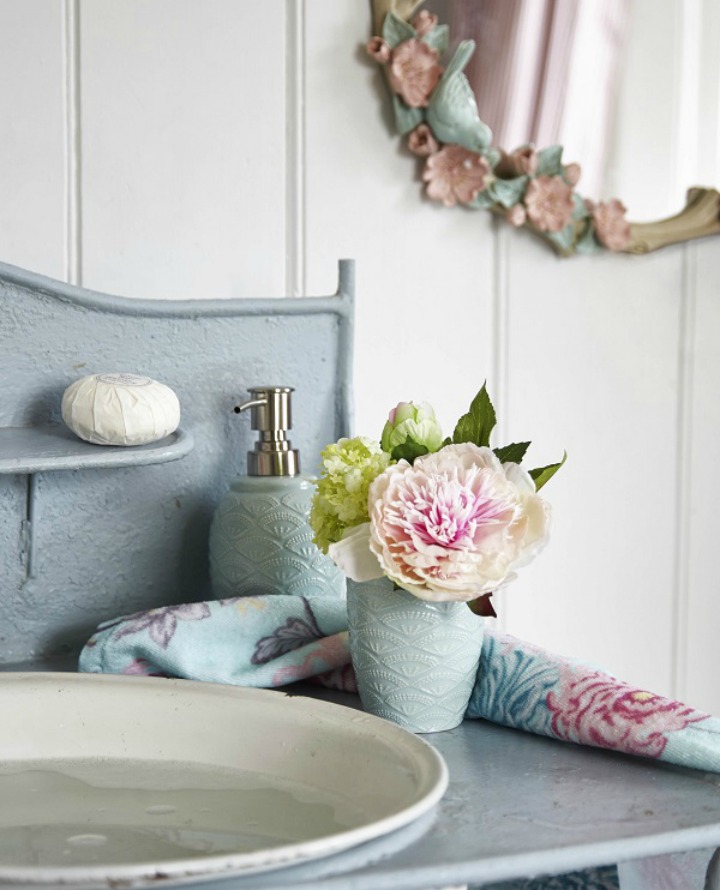 Image: from the Autumn/Winter Dunelm collection
Unashamedly feminine, this style is for the romantic at heart. It conjures up visions of country houses, the scent of flowers and deep baths filled with bubbles. Choose accessories that rejoice in the illusion of a bygone era with painted furniture, pretty ceramics, scented soaps and rose printed towels. Don't forget to add a vase of real flowers and lie back with a glass of bubbly at the ready.
Intrepid Explorer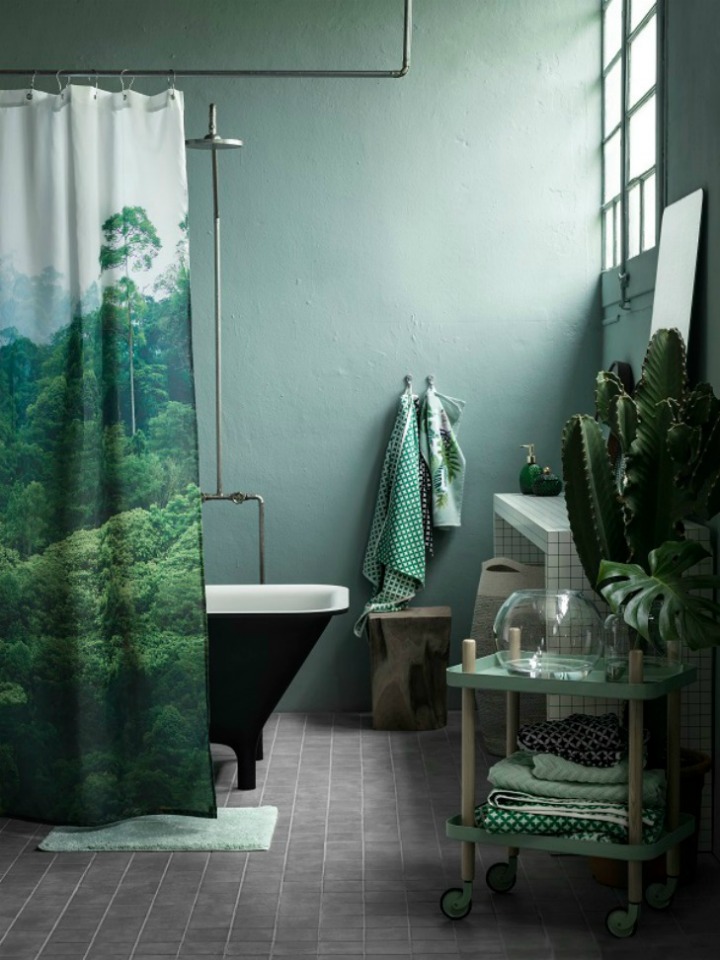 Image: Large scale leaf prints, from the Earthy Emerald range at H&M Home
For those of us who like to indulge in a bit of far flung fantasy. Turn every day into that exotic paradise holiday with scenes of tree clad mountains and deep green accents. Add a wooden stool to keep towels handy, line the window ledge with green glass, and fill the room with real plants. All that steamy, jungle-like atmosphere from various baths and showers will keep them healthy and ensure you're continually inspired until your next adventurous trip.
Beachcomber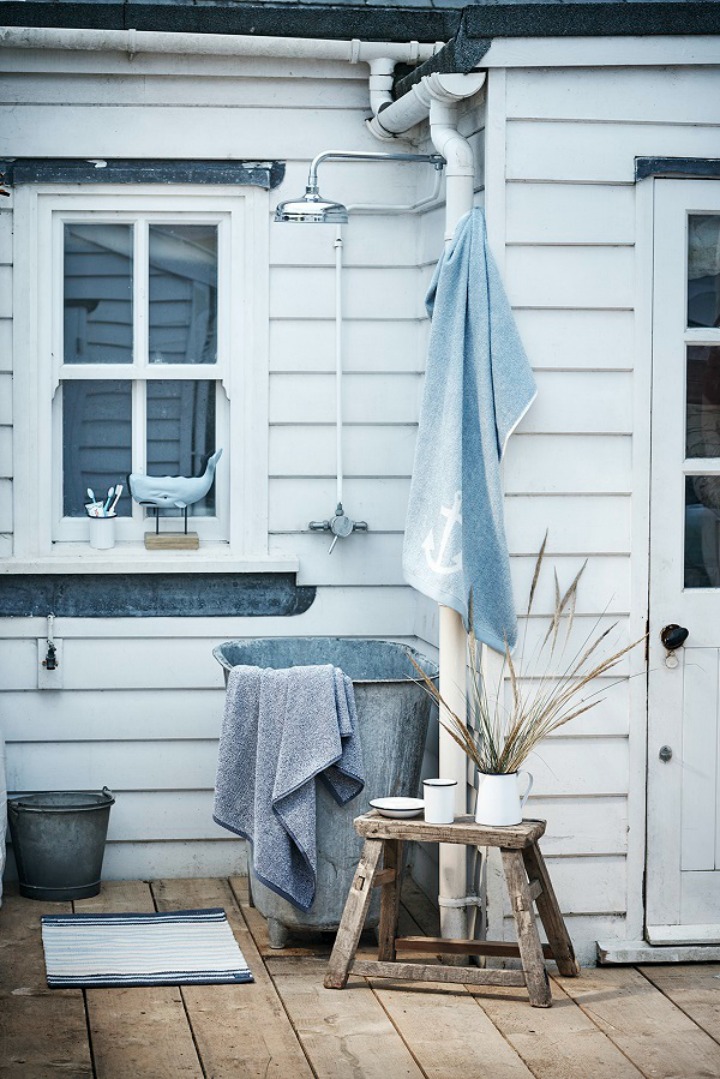 Image: Sainsbury's Home
If your idea of heaven is to wriggle your toes in the sand and taste the salty air, maybe a coastal theme is for you. Keep it subtle with sun-bleached colours and add accessories that remind you of the sea. Driftwood, rattan and rope are good for texture, and enamel mugs make great utensils for brushes and soaps.
In the Navy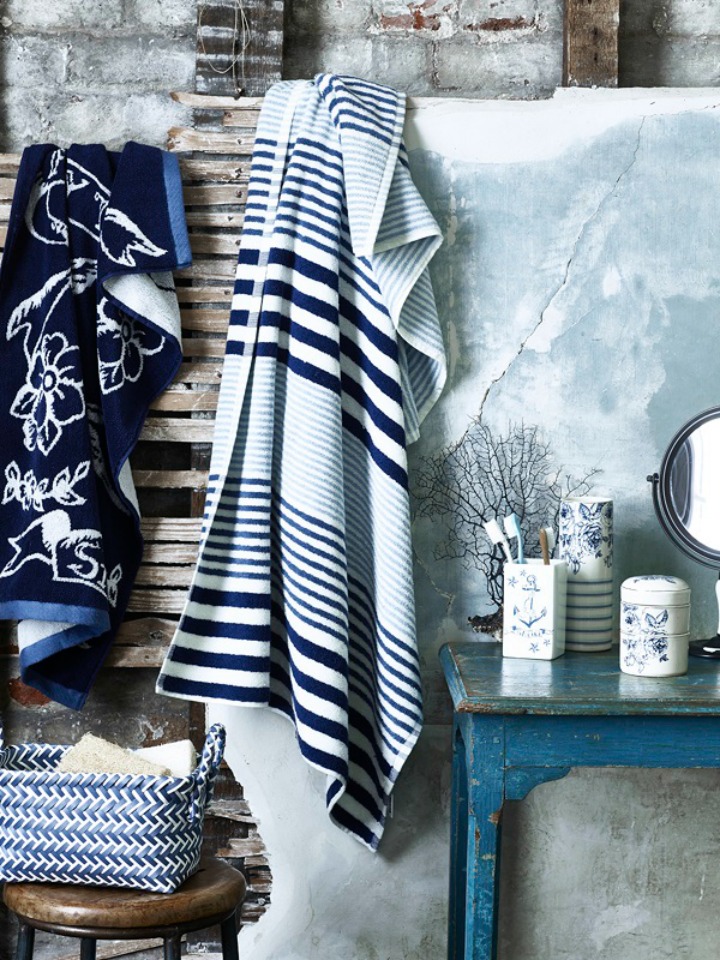 Image: George at Asda
Did you know that navy is the new black? It's just as sophisticated and smart looking, but softer and less severe a shade. By keeping accessories to a navy and white scheme you can mix stripes with florals and abstracts with plains. They will all happily co-exist and keep your bathroom looking ship-shape at the same time.
The beauty of adding your own style with accessories in this way is that the look of the entire bathroom can be altered very easily and at a whim. By changing the towels, swapping the shower curtain and replacing the bath mat, you can have a completely new look every season at a very affordable price. If only every room in the house was so easy to change!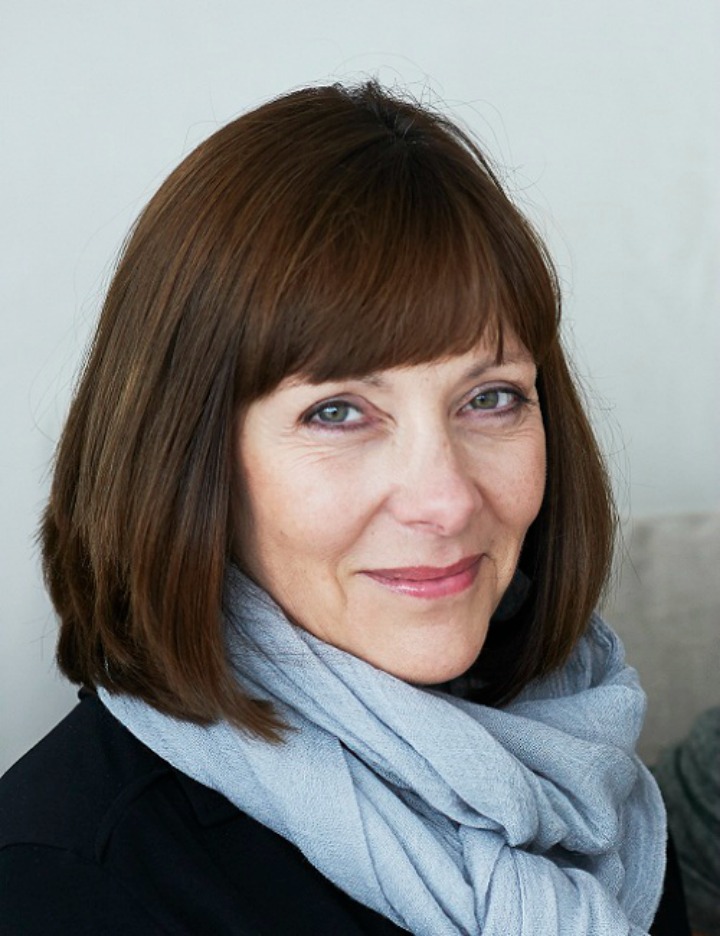 Author Bio: Carole King is an Interior Designer and author of Dear Designer's Blog where she writes daily about current trends, shopping tips and anything else that inspires her. She will occasionally share a personal project too. She is also the co-founder and joint EIC of Heart Home magazine. In her spare time she likes to decorate her new house and her country cottage, walk her big dog and re-arrange her friends' bookcases.