Get In The Festive Spirit With These 5 Christmas Bathroom Ideas
Get In The Festive Spirit With These 5 Christmas Bathroom Ideas
Everyone loves to decorate in the run up to Christmas. Whether you stick religiously to the 12 days of advent, or just can't resist getting your tree up on the 1st of the month, each house is bound to have its own variation on some form of Christmas decoration. From the humble tealights to the full on light-show, however you choose to decorate chances are your bathroom will end up missing out on all of that festive fun. To make sure your Christmas spirit carries on all the way to the bathroom, here are some Christmas bathroom ideas to inspire.
1. Christmas Bathroom Tree
The bathroom isn't exactly the top of the list when it comes to decorating priority so most people will feel reluctant to spend any more money on decorations where it doesn't feel as necessary. A simple and cost effective solution for bringing a bit of festive flair is to stack your toilet roll into the shape of a tree. To do this, simply create a tinsel base before stacking your toilet roll into a pyramid. You can decorate this with snowflake decorations if you like but there's no need if you'd like to keep it simple.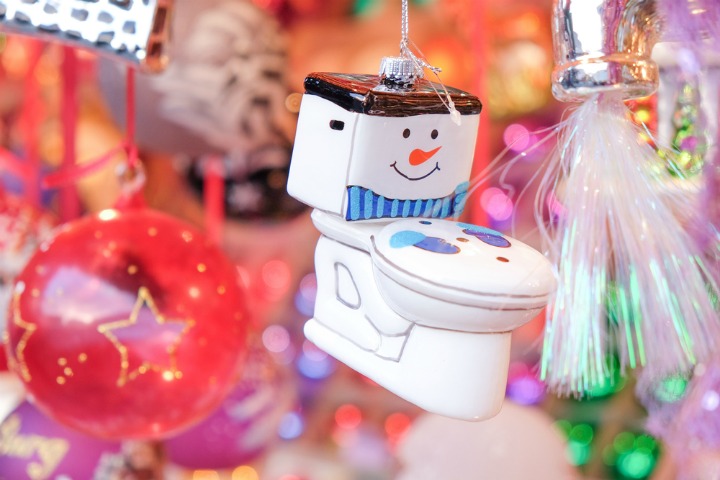 2. Festive Flair
If you're willing to spend a little more cash on your Christmas bathroom then investing in a festive shower curtain and/or toilet seat mat or cover is a quick way to transform this space from functional to festive. You could go subtle with a shower curtain decorated with a snowy landscape or go full on traditional with candy canes and reindeer. Whatever you choose is up to you and if you make sure you look after it, you can bring them out next year, too!
3. Spray Snow

Spray snow is a quick and handy way to decorate when you're limited for space and things to hang decorations from. Use a stencil in your favoured festive shapes to create a Christmas bathroom adorned with snowy shapes on the windows, shower glass and mirror. Who doesn't want to brush their teeth in a snowy wonderland?
4. Employ Your Wrapping Skills

If you have multiple framed photographs or artwork in your bathroom, then wrapping them and adding ribbons and bows before rehanging them is a quick way to transform your walls into a seasonal scene.
5. A Scented Wonderland
Of course, the simplest way to make your bathroom cosy whilst also making it smell wonderful is to add a bowl of seasonal potpourri, including such things as pine-cones, red currants and cinnamon, and a few candles.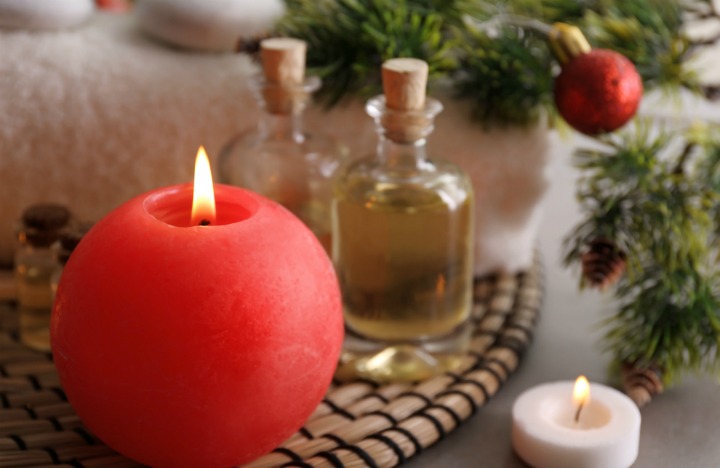 Arranging tea lights on a seasonally decorated plate or having one large, slow burning candle is a sure way to make your bathroom feel distinctly festive. It will definitely bring that feeling of 'hygge to your bathroom and also transform it into a relaxing environment. Perfect for bath time.