Spring/Summer 2021 Bathroom Trends
Spring/Summer 2021 Bathroom Trends
We've rounded up the key bathroom trends of 2021 to keep you in the know and provide some serious bathroom inspiration. Whether you're starting a complete bathroom renovation project or want a quick and easy makeover, read on to find out what styles are trending in the bathroom right now and how you can incorporate them.
Inspired by nature
Over the past year we've spent more time than usual in our homes, so it's not surprising that we are looking for ways to bring the outside into the bathroom in 2021.

Earthy Palettes
Create a warm and calming space by opting for earthy and neutral tones on the walls, tiles or furniture. Think rich terracotta, olive and sage greens or soft sandy beige shades to emulate the natural elements of the great outdoors.
Product shown Burlington 1340mm Curved Vanity Unit with Worktop in Dark Olive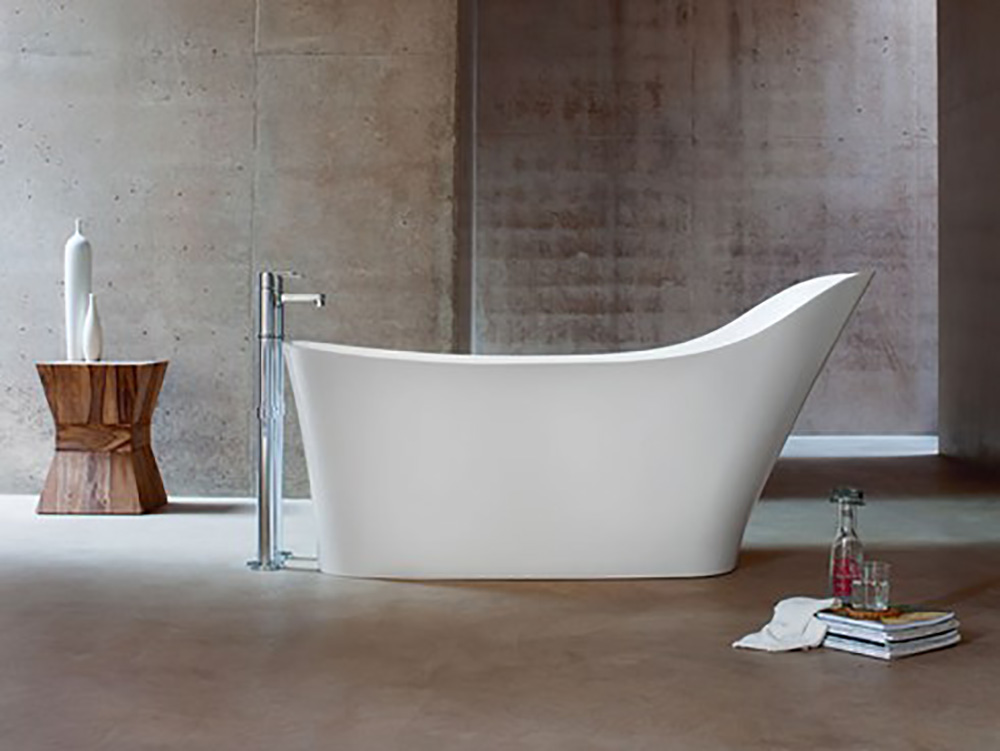 Natural Materials
Using raw and natural materials in your bathroom will also have a warming effect and help to soften the overall scheme. Natural stone baths have grown highly popular, with an understated matte finish and superior durability; they tick the boxes in function and form. Clearwater have a beautiful range of freestanding, stone baths and the Nebbia slipper bath has been designed to create the ultimate relaxation experience. This stone, freestanding bath has a molded base to support the body and provide optimum comfort.
Product shown Clearwater Nebbia Freestanding Bath
The use of wood in the bathroom can also make us feel more at one with nature and bamboo in particular has grown in appeal. Benefit from the calming qualities of this wood with the Ninfea bamboo bathroom accessories.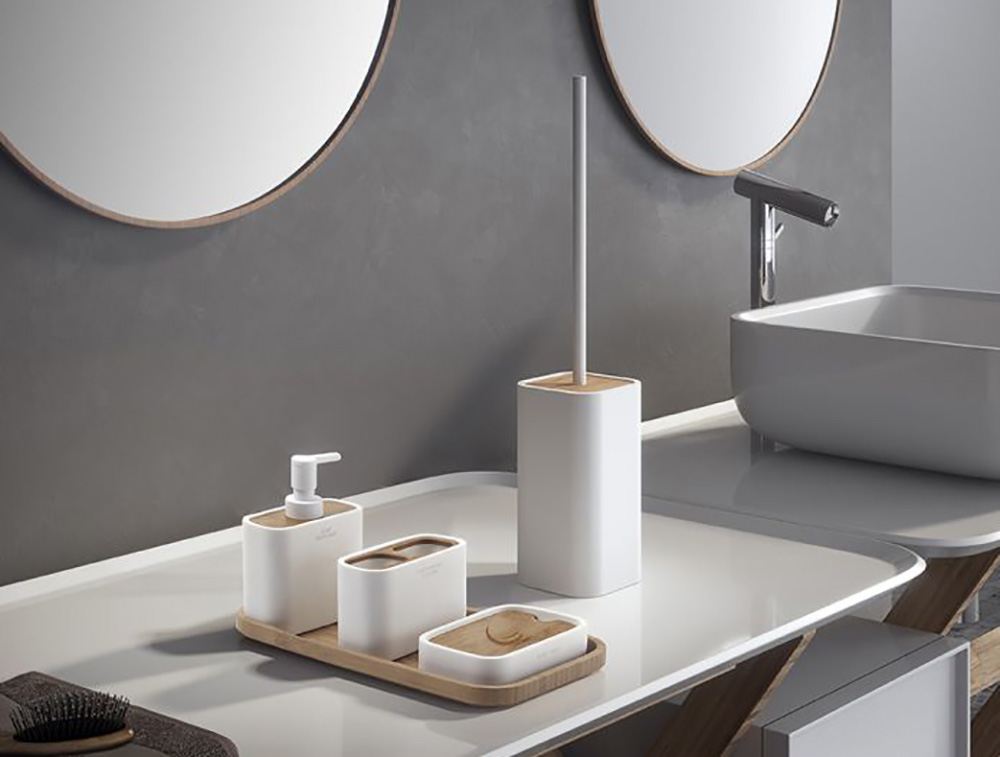 Product shown Gedy Ninfea Bathroom Accessories Set (Individual items also available - Click Here)
Natural materials like bamboo and stone will not only give your bathroom a luxury spa finish, they are also sustainable options if you want to make your home more eco-friendly.
Read our tips on making your bathroom more eco-friendly
Something old, something new
If you don't strictly fall into the 'contemporary' or 'traditional' camp, this is the ideal bathroom trend for you. Marrying modern and vintage inspired elements together adds character, making the bathroom feel timelessly elegant. Depending on the overall design of your home, you can choose which style will be more dominant and add complementary accents of the other to form a cohesive look.
A great way to mix traditional style with modern functionality is by opting for a roll top shower bath. The Burlington Hampton shower bath is a stylish choice, with multiple feet options available. Try it with black feet and match with a sleek, black bath screen, like this one from Merlyn to work the trend.
Metallic Luxe
Chrome has been a mainstay in the bathroom for what seems like forever but in recent years we have seen a rise in some more luxury finishes. Warmer metallics such as gold, brass and antique bronze are big in the bathroom this year. Make your brassware a point of interest by opting for one of these alternative, opulent metallics. We love the latest range of traditional, gold taps and shower mixers from Burlington. The range also includes matching gold finished bathroom accessories to complete the look.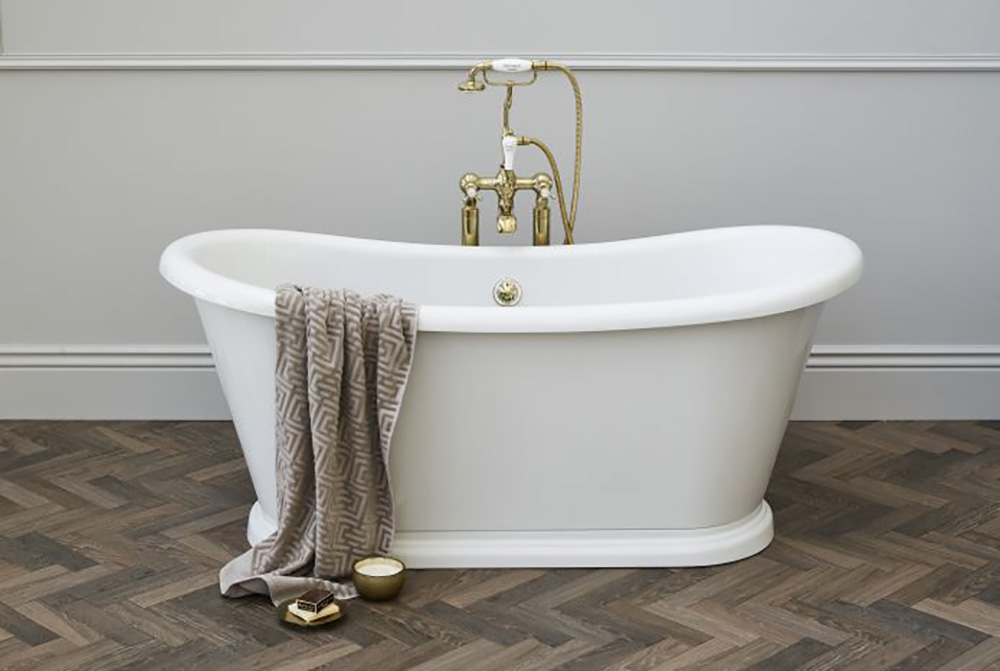 Product shown Burlington Claremont Bath/Shower Mixer in Gold Finish
If you're looking for a more subtle alternative to chrome, Burlington have a beautiful range of nickel taps, shower roses and accessories. Nickel has a white-yellow undertone which results in a softer finish than chrome whilst being more understated than gold and brass.
For a contemporary twist, why not try mixing your metals. Contrasting cool and warm tones will create layers and add depth to the space. Or why not try a simple but pure white twist?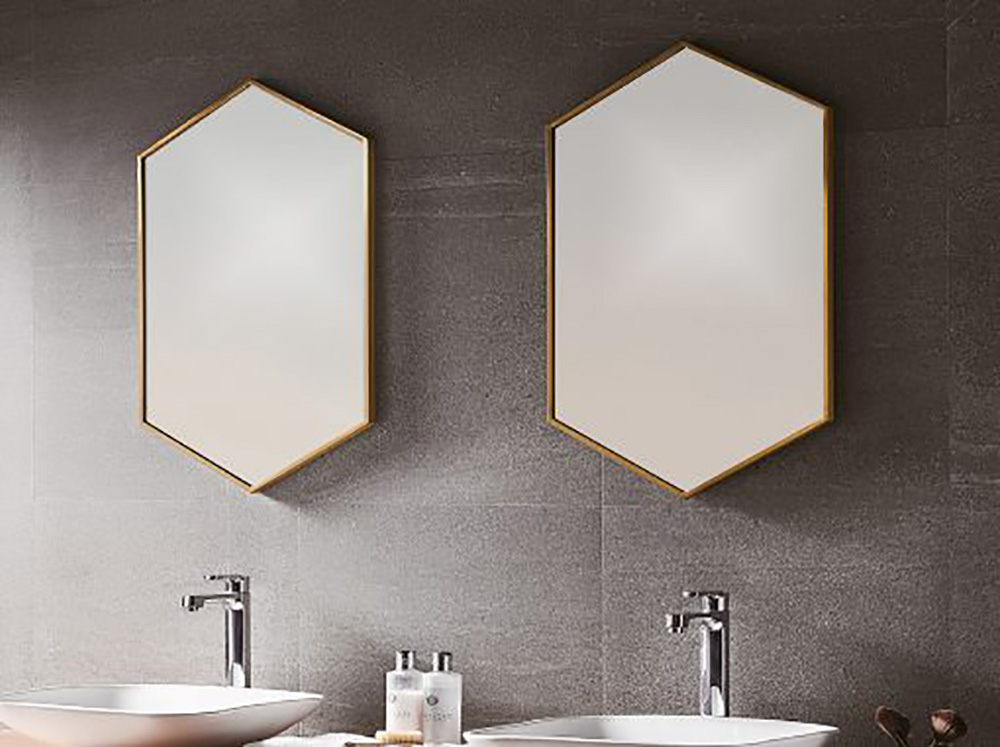 Product shown Bathroom Origins Docklands Hexagonal Mirror in Brushed Brass
Colour Pop
Adding a splash of colour can be a great way to make a statement in the bathroom. In recent years we've seen a rise in the use of bold colours in bathroom tiles and feature walls but this playful trend is taking its place in other ways in 2021. Whilst a classic white freestanding bath will never go out of style, this year bright coloured roll top bath tubs are here to take the limelight.
The Burlington Admiral bath is a great example of a traditional freestanding roll top bath and can be painted any colour you like with acrylic primer and paints. If you love all things PINK, you could take it up another level by painting the bath in a matching hue to this new Burlington Confetti Pink toilet and basin. Channel your inner maximalist with this trend and experiment with colours that reflect your individuality.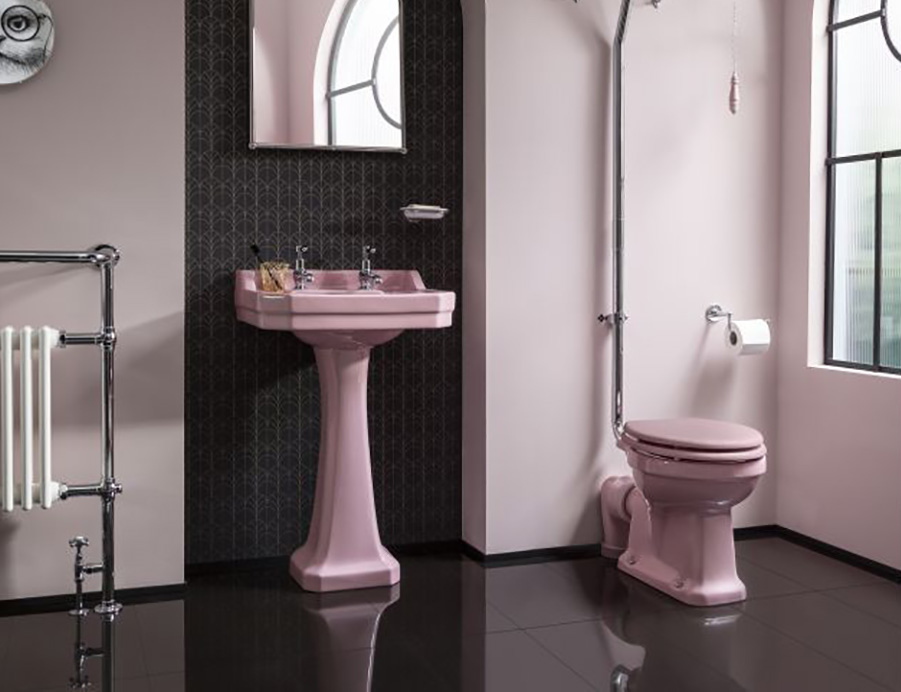 Products shown are in the Burlington Bespoke Confetti Pink Range
Fluted Finishes
A brand new bathroom trend we are seeing in 2021 is fluted and ribbed finishes. Taking its inspiration from the fluted glass designs prominent in the art deco era, the finish is being applied to vanity units, basins, shower enclosures and even baths. This is a versatile trend that can work exceptionally well in both contemporary and traditional bathrooms. We think the Arcade Albany bath, featuring hand detailed ribbing, would make a perfect centerpiece and is an understated way of adding the fluted trend to your bathroom.
All Out Accessorising
The devil is in the details; that's the motto in 2021. Fully accessorised bathrooms are in and this is brilliant news if you've recently renovated or you're just not quite ready to make any drastic changes. Adding all new accessories is an affordable and easy way to completely transform the room. From towel rings to tumblers, every finishing touch should be coordinated to uplift the design. Even your toilet roll holder can be chic! Within this trend, the micro trend of fully accessorising with white has also emerged and the Dalia and Iside sets from Gedy would be perfect for this.
Product shown Gedy Dalia Bathroom Accessories Set (Individual items also available - Click Here)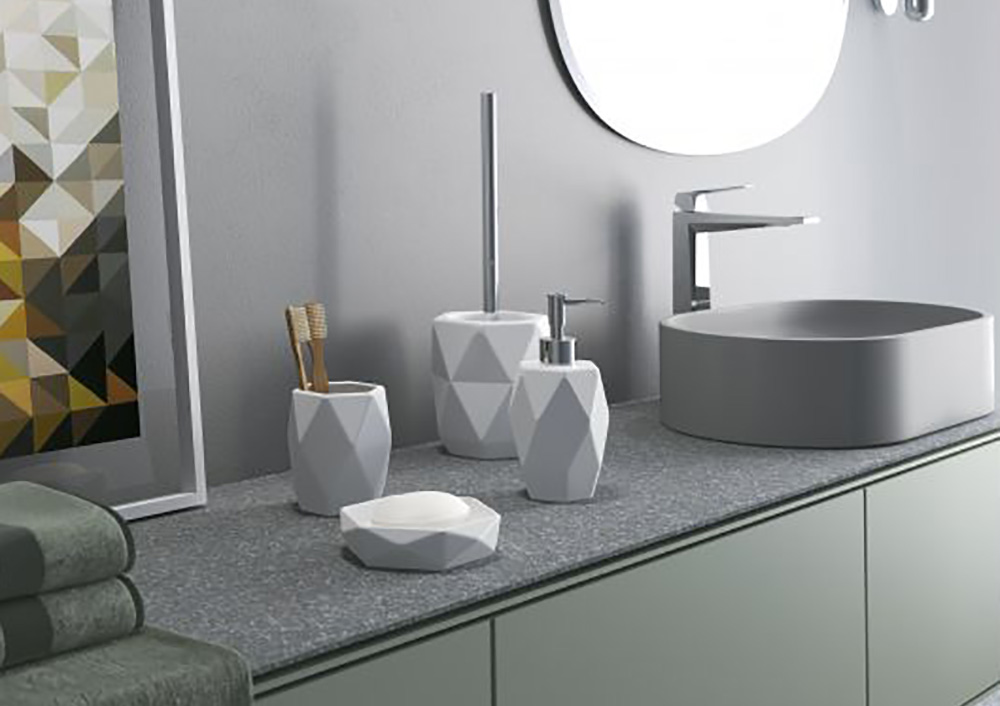 Here at Soakology we have a wide selection of bathroom accessory sets and hundreds of accessories that can be bought individually, so whatever your taste you can fully accessorize your bathroom.
Ready to add some of these 2021 bathroom trends to your scheme? Start to bring your ideas to life and browse our varied collections. We're always happy to help you find the best products to serve your needs and suit your style, so don't hesitate to contact our friendly team if you have any questions.