How To Make Any Bathroom Look Bigger
Redecorating your home, no matter how well you've planned it all out and how enjoyable you find the process, is always a bit of a headache. What makes it even more so is trying to put your plans into action whilst still being careful that your designs don't have an adverse effect on the feel of the rooms in question, making them look darker and smaller than they are. As we well know, bathrooms are one of the most important rooms in the home, being constantly in use throughout the day. With this in mind we've taken a look at how you should be designing your bathroom to make it look as big as possible, no matter the size you have available.
Pale colours make a bathroom look bigger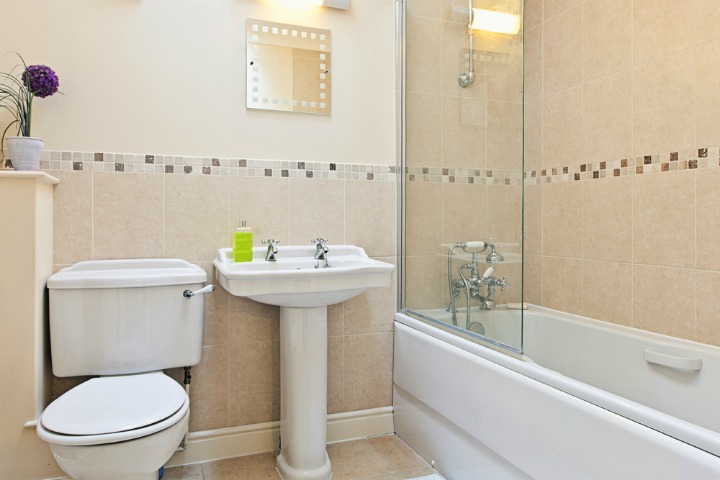 Keeping to a singular colour throughout your bathroom will give the room a sense of uniformity whilst avoiding distinct breaks in colour, which can make a room look smaller. Sticking to plain walls in light shades will make the room look lighter and free of dark corners. Painting the ceiling in the same or a similar colour to the walls will also help to hide away any particularly dark corners. Finally, if you're planning on a mix of tiled and painted walls keep them a similar colour, unless the tiles are dark, in which case paint walls white or a closely related shade.
Use light to your advantage
Any room looks bigger if it's lit in the right way. Maximise the amount of natural light that comes in by removing thick window coverings, and using sheer curtains or frosted windows to protect your modesty instead. Placing mirrors strategically will also help to make the room seem bigger. A big mirror in particular will make the room seem larger than it is
Tile effectively for a bigger looking bathroom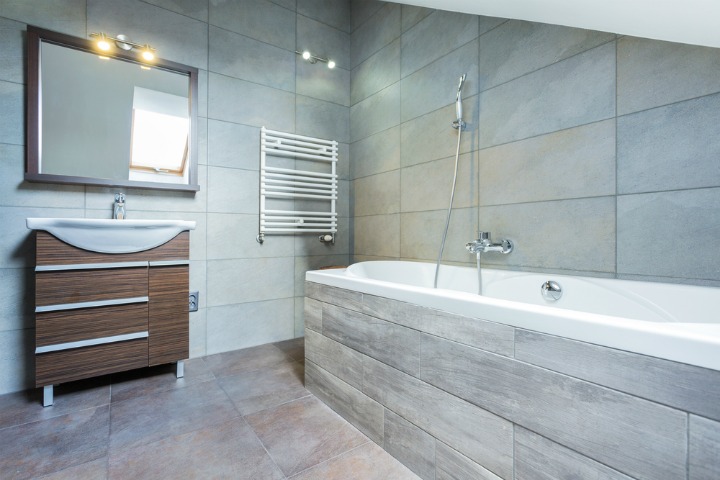 If you're planning on installing tiles make sure you fit them all the way to the ceiling. Not only does this save you having to round off the tiles by having the typical half tile, half painted wall that surrounds many showers, but it also gives off the impression of high ceilings. You should also steer away from smaller tiles. Though subway tiles are undoubtedly an attractive finish in any bathroom, too many lines of grout can make a room seem smaller than it is, as the different lines give visual line breaks. Stick to larger tiles and cleaning your bathroom will be infinitely easier, too.
Install fittings for your bathroom size
If you're having an intensive bathroom remodel you could consider changing the fittings in your bathroom so that they give off the impression of more space. To do this, install floating toilets that have integrated backs, or pedestal sinks which take up as little space as possible. Furniture that is at waist height or lower is best so that you don't feel as if furniture is towering over you. Finally, floating furniture, or vanities with long, thin legs will give a more spacious feel.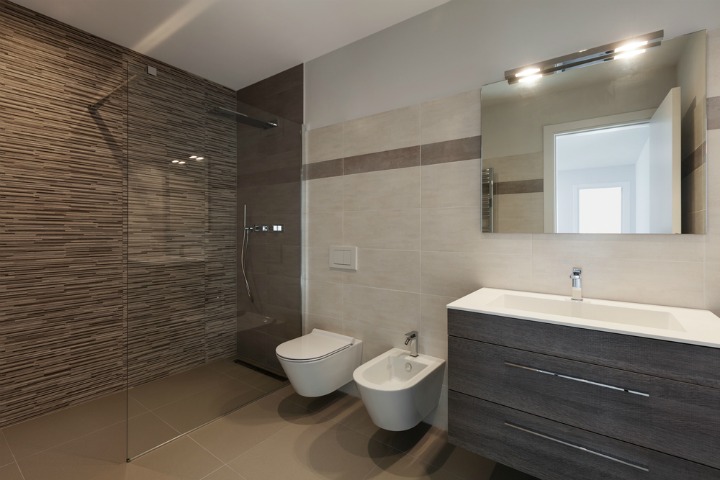 Get rid of the clutter
With a small space, less is definitely more, and definitely recommended. Having smaller furniture is one step you can take but minimising the amount of clutter you store in this room will have a big impact on the overall look. Installing fittings that offer effective storage solutions is a quick way to ensure your bathroom looks as professional as the the first day you had it installed.
Recessed storage built into the shower wall, under sink cabinets and above doors are all clever solutions to make your bathroom seem bigger than it is and take care of excess clutter. For more ideas click here to see nine storage solutions to maximise a small bathroom.
Do you have any interesting ways to make your bathroom seem bigger? Let us know about it in the comments section!