Fitting Freestanding Baths
Fitting Freestanding Baths
Freestanding baths are incredibly popular, whether they're in a traditional or contemporary style, and are fast becoming a bathroom style staple. They make a great impact in any bathroom, no matter the size, and are sure to create some great visual interest in your bathroom space. Once you've decided on the perfect freestanding bath style for your home, it's time to consider the process of fitting a freestanding bath, so that you can finally begin to luxuriate in your new purchase.
To make sure you and your fitter are doing everything in the right order when it comes to your freestanding bath fitting, simply follow the checklist here.
Check your bathroom floor is level, that it can bear the weight of your new bath when full of water and that you have enough space for it to be fitted properly.
Make sure you carry your freestanding bath properly when transporting it from one spot to another to avoid damage to your bath or back.
Attach the feet to your bath if required.
Turn off your water when approaching the plumbing element of fitting your bath.
If installing freestanding taps, measure where they will be fitted and drill the necessary holes for the pipes. Remove any floorboards necessary to fit the pipes.
Connect the pipes and test for leaks before refitting your floor.
Once the necessary pipework has been taken care of, and depending on the style of your chosen bath, your plumber may fit a silicone beading to ensure your bath has no crevices for dust and dirt to enter.
Wait 24 hours for silicone beading to dry before using your bath, and make sure to give it a thorough clean before using it.
For a more in depth exploration of the freestanding bath fitting process, we go over that procedure below.
Things to consider
Before you begin fitting a freestanding bath, you should ensure that the floor has a level surface so that the bath can rest evenly, although some baths have adjustable feet to account for minor variations. When moving the bath to its final position you should take great care to protect the sides and edges from accidental impact. Having plenty of help will also make a big difference as freestanding baths can be quite heavy objects and spreading the load as much as possible will protect both human and bath alike.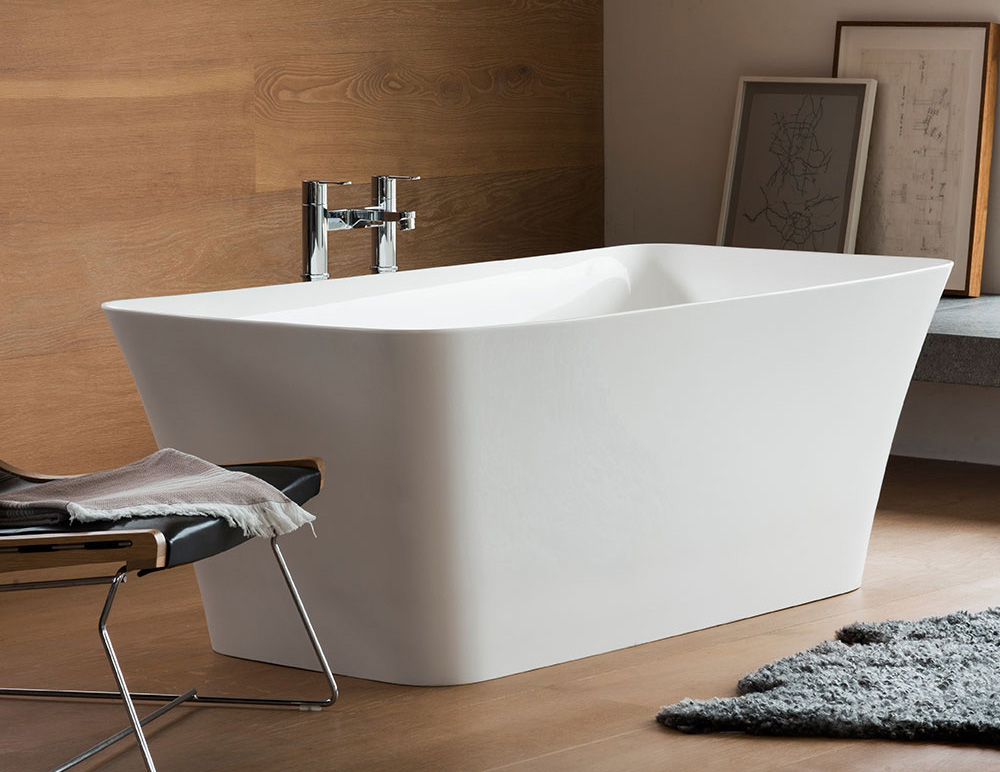 The Ramsden & Mosley Anglesey Freestanding Bath
You should have also checked the maximum weight that the floor can hold, to make sure the weight of your new bath won't damage the structural integrity of your home. Remember to allow for the bath being full of water to calculate the maximum load – each litre of water weighs a kilogram so a 200-litre bath will weigh an extra 200 Kg when it is full. When we get into the bath we displace roughly the same amount of water as our body mass so a full bath weighs about the same as a full bath with a person in it! When deciding on the location of your freestanding bath, note that it must have a minimum 50mm gap between the bath itself and any wall surface. The gap will allow for easy cleaning and for allowing you to maintain access.
Freestanding bath design
The belief that freestanding baths have a more complicated installation process than a regular bath is a common misconception. In fact, installing a freestanding bath can be just as straightforward as managing the new plumbing for any bath, and simply requires some prior knowledge about the way in which freestanding baths work.
In a freestanding bath, the plumbing is often exposed and enter the floor, rather than being hidden away and heading out through the walls, such as with a standard bath. This means that the plumbing can often work as a design feature if this is something you would like to have.
Plumbing a freestanding bath
When plumbing and fitting a freestanding bath, you should ensure the water supply is switched off at the stopcock before beginning any work. If your freestanding bath comes with feet, then it will need to be turned upside down before affixing them. When resting your bath upside down to attach the feet, make sure it's well supported. Some doubled up dust sheets underneath the rim will help to keep it free from scratches.
Once this part of the process is complete, and the feet are all at an even level, your bath can be turned around again, and the pipes connected. If you have decided to install your bath in a different area of the bathroom than your old bath, then your pipes will need to be rerouted.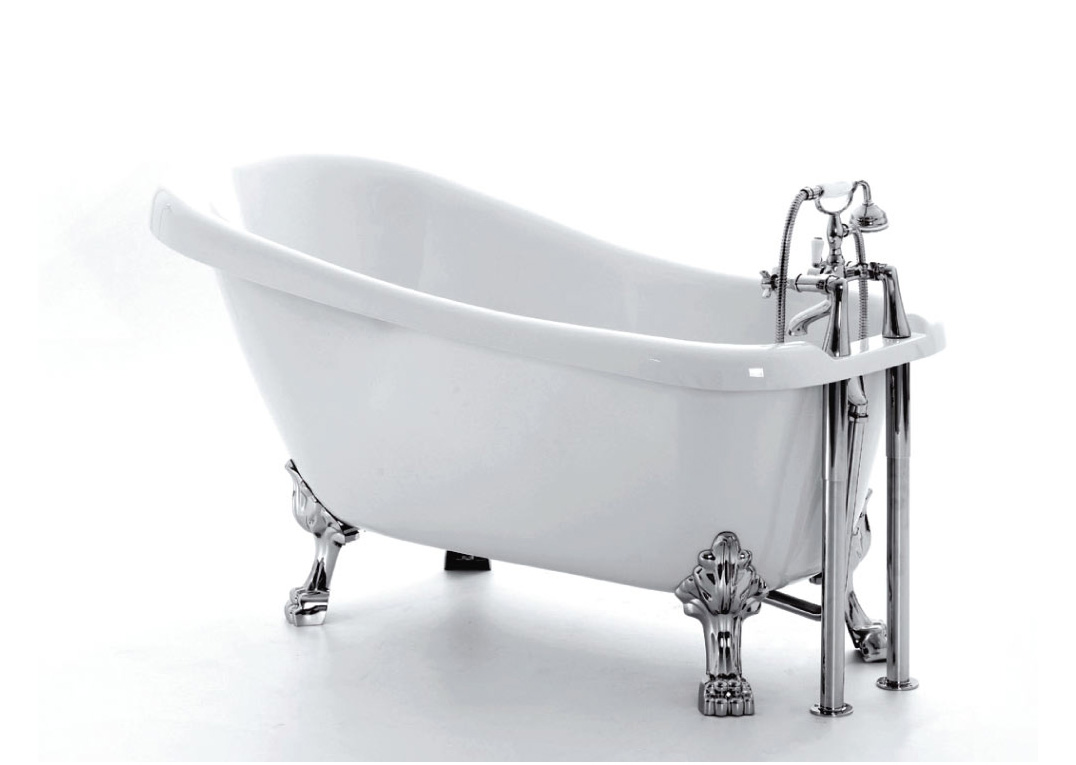 The Royce Morgan Chatsworth Freestanding Bath
If you've opted for freestanding taps, then you will need to mark out the position for them on your floorboards, making sure this is the right distance from your new bath to allow for both easy access for cleaning and for water to comfortably miss hitting the edge or lip of the bath. You will need to drill holes in the marked areas for supply pipes and lift your floorboards to allow for the pipework to reach the necessary spot. Once this has been fitted the pipes should be tested for leaks before the floor is refinished and the bath fitted. Your plumber should be able to talk you through all the different steps that take place when connecting the necessary pipe work, as well as the process of installing the bath waste, trap and pipework when fitting a freestanding bath.
Your new freestanding bath
If you opted for a freestanding bath that sits flush to the floor, then your plumber will add some silicone beading to the edges where the bath meets the floor. The beading will ensure your bath stays as dust and dirt-free as possible. Once this has been added you should wait 24 hours before using the bath, to give it plenty of time to set and dry.
A bath only installation will usually take around two days, but it does depend on the type of bath, type of bathroom and whether your plumber discovers any problems such as rotting floorboards. Make sure you have some alternative arrangements for washing during this time and plan in advance in case the job takes a little longer than first anticipated.
For more information on the freestanding baths we supply contact us on 0333 882 803.