Traditional Freestanding Baths
Traditional Freestanding Baths
If you're looking to redesign your bathroom and want an interesting focal point to draw the eye, then a traditional freestanding bath could be the right solution for you. Freestanding baths have been an eye-catching addition to many bathrooms over the years, and have a timeless appeal that will ensure your bathroom never looks outdated. If you have a bathroom with a classic style or are hoping to create a timeless look in your bathroom at home, then traditional freestanding baths are likely to be a bathroom fitting making it to the top of your list. With this in mind, we're taking a look at the different traditional freestanding options we have on offer to suit both your style and budget.
Types of traditional freestanding baths
There are a lot of different options when it comes to styles of traditional freestanding baths, and many of these come with further choices of different colours and selected finishes. Roll-top baths are the classic traditional freestanding bath option with rolled edges for ease of entry and exit for the bather. They come either single or double ended, with typically with claw-style feet and legs. This creates a particularly elegant look and gives an authentic vintage feel, a look very much in demand.
The Clearwater Balthazar Freestanding Steel Bath
If you're hoping to create a rather regal look, then slipper baths are ideal. The characteristic high back at one end was conceived for privacy, comfort and deep bathing in Victorian times. There are double ended slipper baths with two raised backs also known as 'boat' or 'bateau' baths and two people can enjoy a deep comfortable soak together in these. If your bathroom is quite small, the single ended slipper bath is the ideal solution as this style doesn't take up much space.
Considerations for traditional freestanding baths
Just like any purchase you make for your home, there are a few considerations you should evaluate before purchasing a traditional freestanding bath. The first is weight. Freestanding baths are much more solid in comparison to regular fitted baths, which are usually attached to two or three walls in the bathroom. Once the weight of the bath, which depends largely on the material of construction, is combined with a full tub of water, it will become substantially heavier, so it's important to make sure your house can structurally support this.
A further consideration is the location of your new tub in the context of the size of your bathroom. Large bathrooms can look grand with a traditional freestanding tub placed casually in the centre of the room, but if space is tight, you need to think about the size of the bath you choose. In this scenario, a slipper bath will fit neatly into a smaller room. Its shorter length will help to give the illusion of space, as well as providing a comfortable bathing experience for you to unwind in every time you bathe.
Traditional freestanding baths and style
A traditional freestanding bath immediately transforms your bathroom, changing it into a space you can't wait to return to, and a room of calm and understated elegance. If you wish to create a classical look then this bath style is the perfect solution, and the decorative legs, claw footed fixtures and ornate skirted bases that many of the baths come with is an easy way to create a vintage look.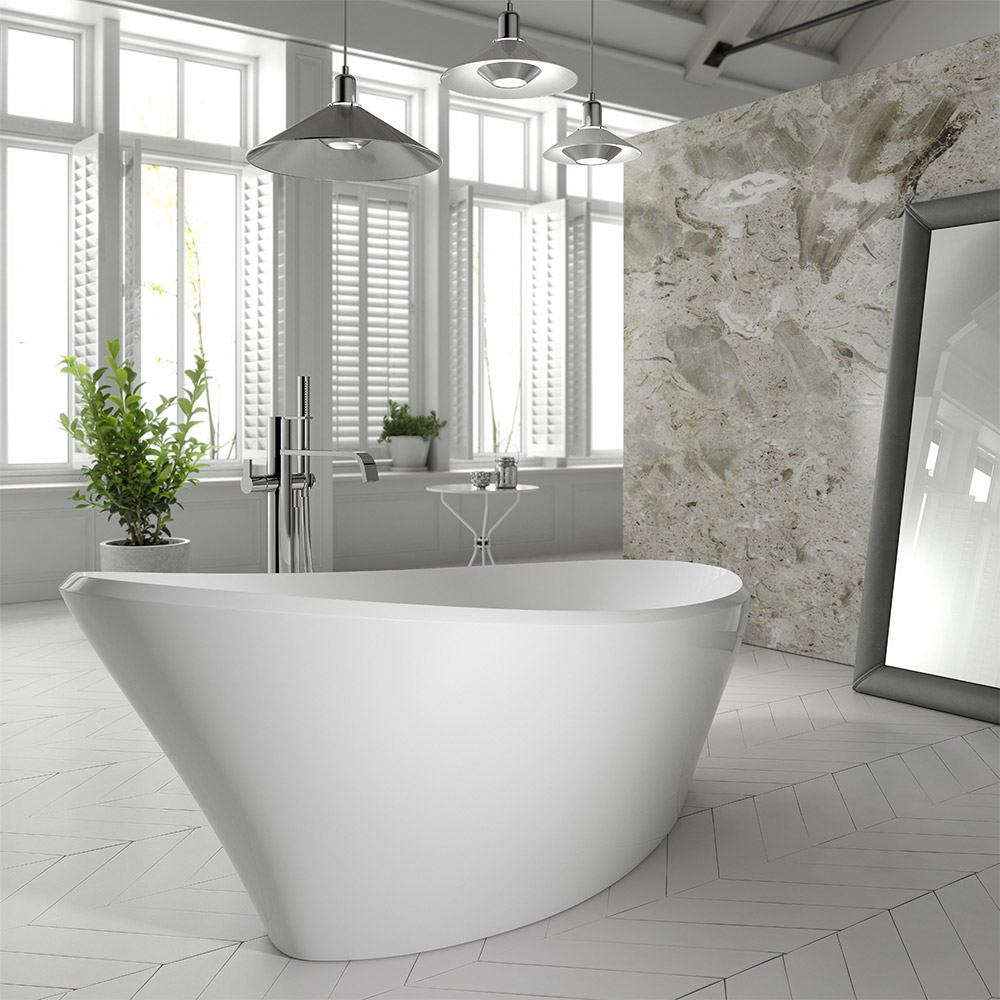 The Ramsden & Mosely Cara Traditional Slipper Bath
When it comes to adding things to your bath such as feet and taps, rest assured that you'll be able to find styles and designs that will suit you. Moreover, many of our products come with different coloured designs or optional fittings.
If you need to save on space then deck mounted taps, fitted on the edge of your bath itself, are practical and stylish. To stick with the traditional theme, cross-head taps are a good choice and can come in pairs, a single mixer tap or even a bath shower mixer with a hose and handset integrated into the fitting. If, however, you want something more minimalist in style, then consider wall mounted taps which integrate all the plumbing into the walls, giving a clean appearance. Finally, freestanding taps are perfect if you have a bit more space to work with and are looking to create a strong traditional style in your bathroom. For a vintage look installing a freestanding shower mixer tap with two legs and cross handle tap heads are perfect.
For further information on our freestanding baths these pages will cover everything there is to know, or you can contact us on 03300 882803.