How To Choose The Right Bath Material
How To Choose The Right Bath Material
When choosing the ideal freestanding bath there are a more than a few things you should take into account before you make a final decision. After all, you will want this bath to last you for a long time to come, which means ensuring you get a fitting that is of considerable quality. You should consider the size and shape of the bath, the location of the taps, the height and, finally, what material suits your needs best. Many people don't consider that the type of material you choose for your bath can have a significant impact on your bathing style and needs, so consider these factors before you take the plunge, and make sure you get the right bath for you.
Choosing the right bath material
At Soakology our freestanding baths, both in traditional and contemporary styles, come in a selection of different materials. Because of this, you may find that choosing the right bath material is a little confusing, as the different choices all seem suitable. To help you solve this problem and settle on the perfect product for you, here are the benefits of the materials currently available.
Acrylic
Acrylic is incredibly popular as a bath material, having become the material of choice because of its many beneficial properties. Not only does it have a natural warmth but it is also relatively inexpensive, incredibly resilient and easy to maintain, making it a firm favourite in busy households.
It's also easily formed into contours, meaning that if you would prefer a bath with several curves, the bath you choose is likely to be made of acrylic. With an acrylic bath, you are much more likely to be able to retain the high-gloss finish and fantastic colour over time. Acrylic baths are also the lightest in overall weight making them ideal for older properties with thinner, less robust upper floors.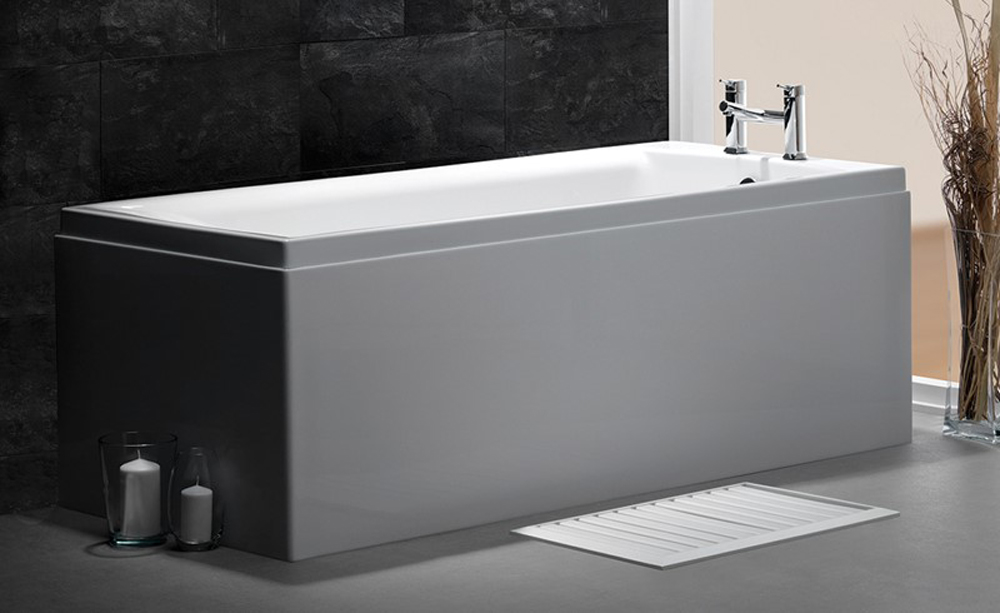 Carron Classic Quantum Single Ended Bath
Lucite acrylic also has these benefits but is even more durable. It's also non-porous meaning you don't have to worry that it will absorb any water or products, and become damaged over time as a result. Lucite baths are more resistant than some other bath materials to wear from household cleaning products and have anti-bacterial products.
Natural Stone and Solid Surface
Natural stone baths are incredibly attractive and are high up on the list for those wishing to recreate a designer style bathroom, as they can be moulded into sharper more fine edged shapes than acrylic, steel or cast iron baths. Their smooth surfaces and solidness make them desirable, as well as the range of different stones that can be used, meaning you have a unique bath that perfectly suits your style.
Stone baths can be a little harder to maintain, but the extra work is worth the impact your bath will make. They also retain about 50% of the heat from the bathwater, meaning that your bath will stay warmer for longer.
Steel
Steel baths look stunning and have that chic designer appeal that everyone wishes to recreate in their home. You can get steel baths in their metal finishes or different shades of enamel coating for a crisp finish. They can also be easily moulded into striking designs, whether you're looking for a bath with curves or something a little sharper.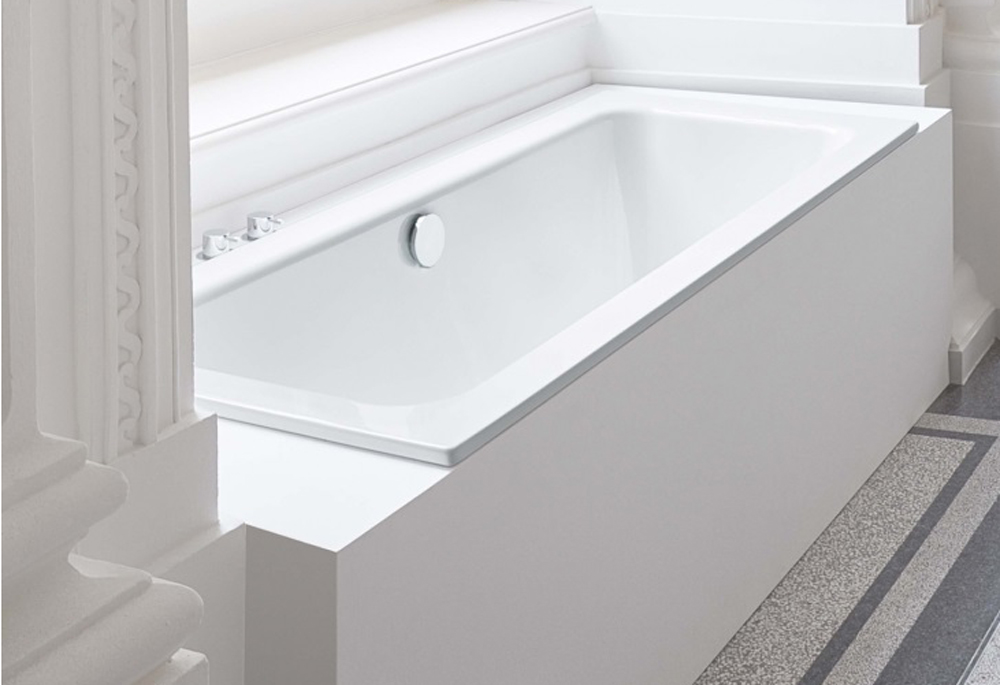 Although extremely durable over time a drawback of steel baths is that they can be colder than other materials, such as acrylic, which is something to bear in mind if you'll be using yours for showering and bathing. However, by adding foam or rubber insulation attached to the underside of the bath you will reduce this effect and allow the steel baths to retain heat more efficiently.
Cast Iron
Cast iron is the most traditional material used for freestanding baths. When people imagine an opulent, traditional bathroom, they probably imagine a double ended bath with clawed feet as the focal point. Cast iron baths, being 'cast' and worked with tools are never quite as 'perfect' as other materials in terms of the finish that is achieved on the outside and around the edges of the bath and this is part of their undeniable charm. They're perfect for recreating an authentic vintage look in your bathroom and are particularly eye-catching. Another benefit to this bath material is that cast iron is extremely durable, resistant to damage and marking.
Although they take some effort to heat up, once they do the thick cast iron material will retain heat and these baths are very easy to keep clean. This type of bath material will last you for years to come, so long as your home has the structural integrity to support the weight of this material.
We hope this has helped you to discover the right bath material for you. If you would like more advice, then please contact us on 0330 882 803 to speak to our team of friendly experts. We can help you to make the necessary decisions to bring you one step closer to installing your freestanding bath and having the bathroom of your dreams.