Rounded vs Square bathroom Furniture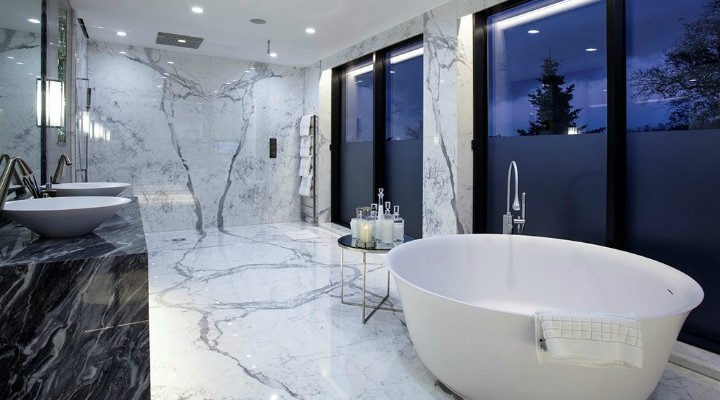 Nature is my main inspiration when I choose interior design schemes and furniture for the home. Whether it is about colours, textures, forms or patterns, sometimes it can often be subliminal. But I do love playing with the shapes nature offers us, and it is especially rewarding in the bathroom environment.
The bathroom atmosphere is very important. It is somewhere you will want to relax in at night but early in the morning, probably want to just shower and go. This means a lot of thought needs to go into its functionality as well as aesthetic values.
Remember that a bathroom is full of hard, clean surfaces, so it really does need to be softened to look inviting and stylish. There is nothing worse than a bathroom looking sterile or too regimented. It is important to get it right as it is not an easy room to change later on and doing so can be an expensive exercise!
If you are starting from scratch and can have carte blanche on designing a new bathroom and your furniture, then use your bath as your main feature, your art piece and find the most strikingly beautiful bath you can. Round, rectangular or square work equally well, depending on your room size, its shape and your style of home.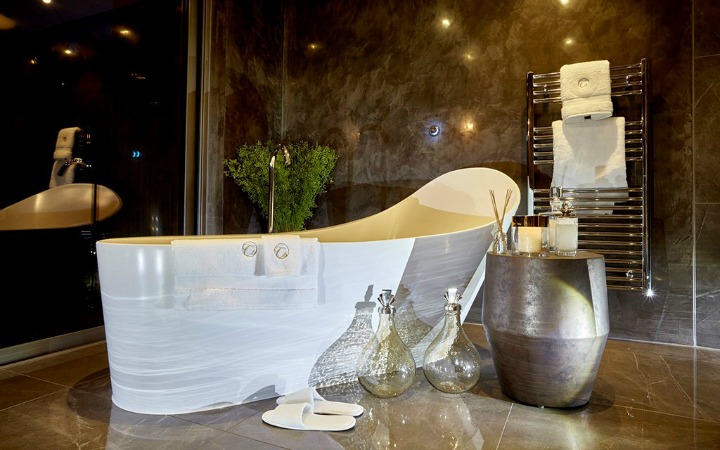 Impact is about contrast so don't hold back with the style and shapes you use in your bathroom. If you are working with an existing bathroom, a contemporary room can look fantastic if you take a round classical table and place it next to a square or rectangular bath. Add an eclectic mix of classical and contemporary glass bottles on top to store your bath oils and lotions. Even next to a round or even oval bath, round tables work so don't think it is always about doing the opposite. I have used all sorts of combinations in furniture choices but the key is to soften and not make your room look too austere. Textures can be as important as shape when working on your bathroom's finishing touches.
When designing any room, I am often led by the style of the building, even if it has been refurbished in a very contemporary way, elements of the exterior should be reflected in the interior.
In some very contemporary homes, there can be an eastern aesthetic influencing the interior. In bathrooms, this really lends itself to strong, clean lines and straight well defined edges. I would normally choose strong shapes for the sanitary ware such as square sinks and baths, in this environment, but I do love the juxtaposition of adding a round stool, chair or table to contrast. If you cover a round stool in a toweling fabric, it can give a fun, relaxed aspect and a contrast of texture and shape to an often more masculine feel.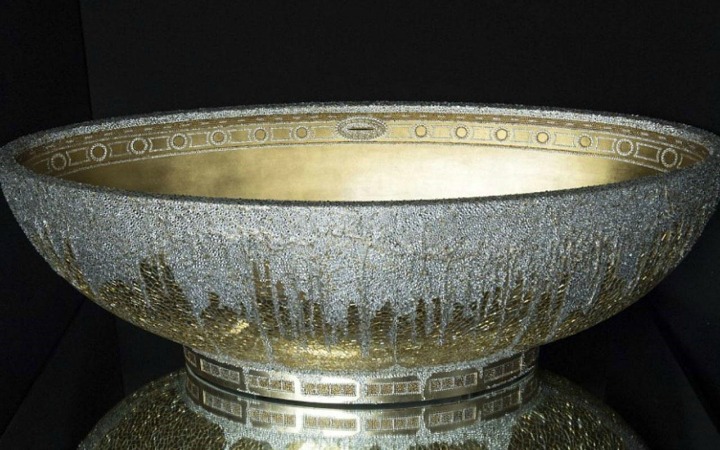 In a more traditional bathroom setting, you can have fun using interesting and elaborate sanitary ware. I designed an oval gold and crystal bath for a client who loved gold, however next to this bath I sat a gorgeous contemporary, hard edged black leather chair which really set the bath off as a star piece of artwork. Again, it was about contrast. Too many straight lines and impact is lost and a bathroom becomes dull. The same goes with too many circular shapes in close proximity.
There are no rules that say if you use a square sink, you must use a round stool, or the opposite. In fact, there are no rules at all; they are made for breaking anyway! It is purely a case of personal taste, your available space, and what you want to achieve from your bathroom. Round furniture such as a fabulous upholstered chair in a bright colour can look striking on a hard marble floor. However, to really see the full impact and beauty of any curves, you need to have enough available space. The red chairs in the photograph are in an entrance hall to a private spa. They sit beautifully on this natural stone flooring and I have also introduced them into larger bathroom schemes where there is plenty of room allowing you to really appreciate their shape and form.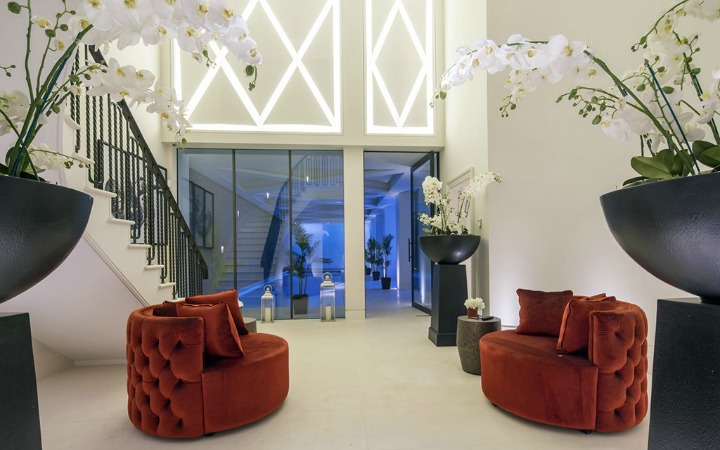 Equally, square furniture can give a more masculine, 'cool' look to your bathroom. I have often been asked by single men who live alone to give them a really masculine bathroom. However, even though the shapes strong and generally square, I always introduce a piece of furniture or lighting into the scheme to add some contrast by way of either a curved wall light or a curved piece of furniture.
So you ask 'Rounded v square bathroom furniture?'... no competition! Use them both and use them together; you will love the impact you create.
About the author
Celia Sawyer is a renowned interior designer with an innate sense of style, merging classical and contemporary. Designer to the stars, she is frequently featured in mainstream press and on national television - most notably in Four Rooms.