Fantastic Ways To Make Your Bathroom More Colourful
As a crucial space for the all-important cleansing and relaxing at the beginning or end of a stressful day, refreshing your bathroom when it begins to look a little tired is a must. However, with all the fixtures and fittings that you need it can feel a little daunting, especially when the bill appears.
A few simple cost and time effective changes are sometimes all that is needed to revitalise a room. As with any renovation, it's important to have a style in mind and a colour scheme that will suit your space, helping you to feel calm, clean and collected at all times.
Colourful tiles
Damp is a constant culprit in a bathroom and tiles are an intelligent solution to avoid water streaked walls and condensation on the ceiling. However, tiling can often be a bit of a financial headache. It can also take up a fair bit of time. Our solution is to focus on a small area to tile, making the whole update more time and cost effective. Areas to focus on could include around the shower, the floor, or as a splash back behind the sink.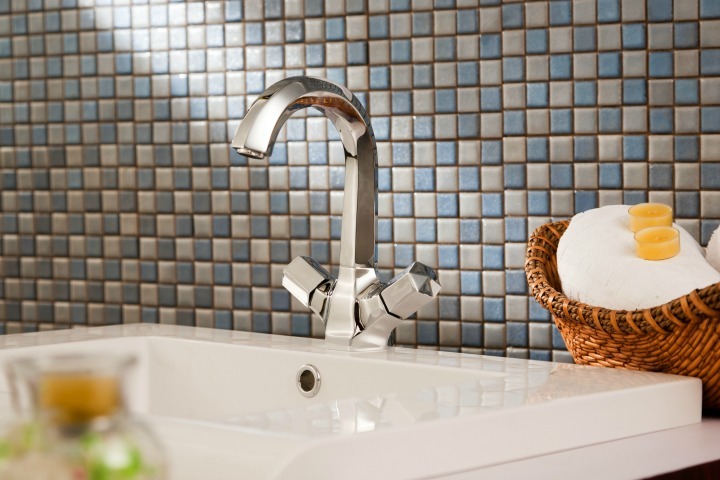 By using bold colours and interesting designs your bathroom could experience a complete overhaul by simply approaching solely this task. Another option would be to apply tile stickers over pre-existing tiles for an instant update. Green, blue or grey subway tiles can be an attractive choice, with these colours promoting relaxation.
Shades of paint
Painting any room immediately transforms the look and feel for that space. It's a more cost effective means to achieve a quick update and requires fewer tools. Important considerations include the size of your bathroom and the light that you get in there.
For bathrooms with little or no windows, bright colours and light shades are a good choice, to stop your room from feeling dark or drab. However if you feel you would like to inject more colour into your surroundings, a feature wall would be a good idea, provided there is sufficient lighting. If you're fortunate enough to have good sized windows in your bathroom then you have the luxury of experimenting with more colours. Shades of grey are very fashionable at the moment and look fantastic with white finishes.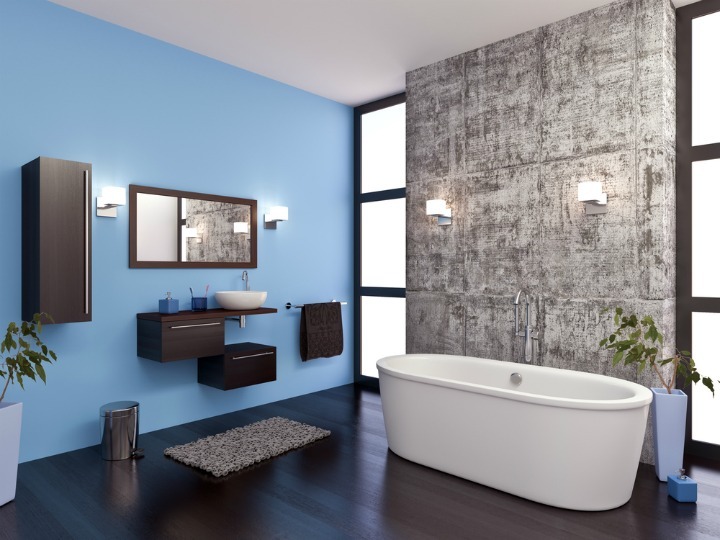 The easiest changes
The quickest, and most changeable, way to give your bathroom a facelift is by swapping the accessories. New towels and bath mats can revitalise the space, as can toothbrush mugs, soap dishes, toilet brushes and bathroom bins. In the case of renting, this is a particularly attractive option as plainer bathrooms can gain some real character from these simple touches and they can be easily removed and taken with you when you relocate.
Buying accessories that match in colour or style can bring a sense of unity to your space. Combining two colours as a mix and match option is extremely stylish and changing only these aspects of your bathroom ensures you're not tied down to one style as it's inexpensive to change.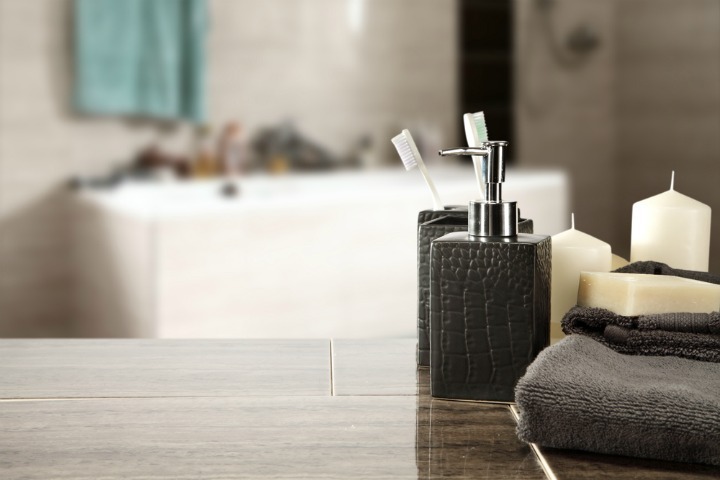 With all these options, if the shades and hues you choose turn out to not be right for you, there is no guilt in starting afresh. Patterned towels are quickly swapped out if you find the style is not to your taste or if you get bored. The same can be said of feature walls and small areas of tile. With these simple changes it's quick and simple to update your bathroom space without completely remodelling everything in it. Small changes with a colour scheme and style in mind are all that's needed to transform your bathing area into something that more closely reflects your personality.
Do you have some quick fix tips to bring some colour to a bathroom? Let us know in the comments below.