Nuance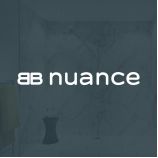 Nuance by Bushboard laminate panelling and worktops are an ideal alternative to tiling and finishing your bathroom off. No grout lines to scrub and day to day cleaning is a simple wipe down.
Nuance panels come in a choice of sizes that make them flexible in both design and use in any bathroom. They can be used to panel the wall around the bath and around the bath itself, as well as an alternative to tiling shower enclosures and wetrooms. Large format panels with postformed outer edges mean there are no extusions and few visible joints. So, you can lie back and enjoy the look you created with Nuance.
We have a wide range of packs available that cover most installation requirements, these include the correct colour to compliment your chosen panel finish and the right amount of adhesive required for each installation. Extra panels and adhesive can be purchased seperately if required.
Nuance also have a wide range of laminate worktops available to compliment the panelling or as standalone items worktops - or to complete your furniture. An array of finishes, sizes and thicknesses means you are spoilt for choice on your finish.
Read more