Imperial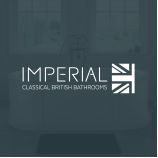 Built upon British tradition and a commitment to uncompromising quality, Imperial are one of the most reputable brands in the industry. All Imperial products are expertly handcrafted using the finest materials and with the utmost care, ensuring that your bathroom pieces last a lifetime.
Each of Imperial's ranges of ceramic ware and bathroom furniture encapsulate their own unique personality, cleverly distinguished through every contour and intricacy. Many of these beautifully timeless products take influence from period eras but with a large selection of finishes and additional features available, Imperial have ensured that there is also the ideal solution for those looking for a contemporary twist.
Whether you are in search of modern brassware, hand carved wooden bathroom furniture or an opulent cast iron bath, Imperial offer products of quintessential distinction.
Read more